FREE VALUATIONS

To help us provide you with an immediate valuation/offer free of charge, please send at least one image showing the interior of the helmet Additionally send images showing both sides of the outer shell of the helmet.

Effectively the more visual information you send the better. To learn more about your items follow these steps:

1) Take some images of your item/items.

2) E-mail the image/images to enquiries@germanhelmetswanted.com

Please include the word "VALUATION" in the text, together with any additional information that may help us (sizes, trademarks, numbers etc).

In turn you will receive our assessment of market value together with an option to sell directly to German Helmets Wanted.Com . This process may take a little time but the resulting information should prove invaluable.

---------------------------------------------------

The above service is solely to determine the origins and approximate value of items obtained from within your family. Or those collected by you over time. Regrettably www.germanhelmetswanted.com does not resolve disputes between dealers and on-line collectors.

GDM.com Museum Exhibit Exchange Scheme

To increase the diversity of museums GDM.com has formulated an exhibit exchange scheme. .Is your Museum storing ww2 exhibits that are bulky, duplicated, or which are deemed politically unsuitable for display? If so you are invited to register details with us. We will in turn offer you alternative exhibits of commensurate value that are currently up for exchange/trade by similar institutions.

RESTORATION & CONSERVATION

Our view is that for the most part, genuine militaria is best left in "as found" condition. We do, however, offer a few tips: 1) Never use power tools or abrasives ,never repaint 2) Never touch blades with the naked hand .The salty deposits will cause corrosion. If you have made contact wipe the blade with a little machine oil. 3) Avoid the application of fine oils on plated cross guards .This may result in the lifting of the finnish. 4) An untouched hemet is more valuable than those that have been oiled/waxed

BUILDING MUSEUM COLLECTIONS

Advice on the display and acquisition of collections is part of our trade. Our sourcing and strict vetting of items may save you embarrassment and financial catastrophes. We at germanhelmetswanted.com are aware that there are both honest and less reputable dealers. There are also well meaning yet misinformed collectors. We judge items scientifically by committee, pooling years of "hands on" experience.


Insider's Tips for selling a German Helmet

How The Market Works

Selling at a Traditional Auction?
This is no longer a viable option for all but the deceased, infirm or those who are happy to see 45% of an item's value lost in buyer and sellers commission.
Selling on the internet auction site EBAY?
This is no longer an option
The sale of WW2 helmets marked with Nazi insignia is now banned from Ebay .If you list such an item you may be contacted by collectors wishing to buy it at a reduced price then the listing will be mysteriously removed.
Repeated attempts to list Third Reich memorabilia results in suspension of an Ebay account.
Selling a German Helmet to the trade.
Whether you are buying or selling a German Helmet, you will find it advantageous when negotiating with dealers to understand how things work behind the scenes. One observation of the Militaria Market, is the gulf between what the consumer expects from a dealer", and what the German Helmet dealer believes he should provide for the consumer. These differences boil down to trust. The consumers hope they can trust the German Miitaria dealer to give Them an honest appraisal and pay a fair price. The average dealer feels it is right to pay the lowest price he can for his stock, to maximize his profit, and that it is up to the consumer to have done their homework.
by finding our website, you will be on a much better footing when negotiating with German helmet dealers.

Militaria Dealing- A Brief Overview

Broadly speaking there are two categories of Militaria dealers - the wholesaler and the Retailer
The Dodgy Wholesaler!
The Less scrupulous Militaria wholesaler aggressively seeks to bring new material into the marketplace, Traditionally they would have scoured local auctions, yard and boot sales or obtained goods by staging buying events in venues such as hotels and local halls. Increasingly these "sharks" are now colonising the internet .Some operate behind glossy corporate style websites they bost "toll free" telephone numbers complete with images of glamorous non existent staff. Their devious techniques are adapted from those from jewellery and gold buying operations,, Equally treacherous are those who masquerade as lifelong collectors, Their market knowledge may be shaky but their persistence will insure a return when buying from the older generation who are trusting and ignorant of prices. These wholesalers? may distance themselves from their booty by moving it on for sale to seemingly reputable retail-based dealers.
The Specialist German Helmet retailer
German Helmet dealers invariably get some of their stock from such wholesalers. They will attend Auctions. Militaria shows and buy from contacts who visit their stores or website., most of their business income is derived from servicing a niche clientèle of Investors and enthusiasts (End Users), . A dealer of this type is more likely to pay you higher prices for your German Helmet since items don't have to have to pass through several sets of hands before being sold, The location of a Militaria's store is a major factor for sellers to consider as is the ranking position of a website by a search engine, a store situated next door to a tourist attraction will have thousands of visitors each year. These are the best dealers to approach they are hungry for stock, will posses far greater knowledge and have a greater volume of customers to supply. Larger dealers are more likely to display the "Max Certified Dealers" logo. Such Certification provides excellent redress for collectors but is vague in its treatment of fair play for those selling.
Theoretically German Helmets and other items of militaria have "Trade Price" and an "Asking price" The margin between the "Asking Price" and the "Trade Price" is variable but generally thinner on items that are in great demand.
Militaria Dealer's Profit Margins
Effectively rare German Helmets in good condition are good news for dealers .They are in demand therefore they can be turned over quickly regardless of Profit Percentage
If a good helmet that will sell for $3,000, a dealer can make a nice profit if he has obtained it for $2500, he might have this Helmet in his inventory (His investment in it tied up) for sometime before someone pays the $3000.

All told, the profit margins for German Helmets are primarily determined by these factors:
A. How quickly the Helmet can be resold (market demand)
B. How high the Cash value is (capital outlay)
C. The trends in popularity (market dynamics)
Militaria dealers have to strike a balance between the above factors to remain profitable.
Best Regards
David Mattey (German Helmet Buyers)


HELMET FORUMS

A forum is a great place for the virtual enthusiast. It gives both the unqualified and qualified an opportunity to discuss the merits of items that they may or may not own. The more sinister side to forums is that collectors have been targeted and suffered after foolishly disclosing details of their valuable collections. Bogus collectors spend months building up credibility and trust before striking. In practice, the knowledge and experience acquired by actually handling items knows no substitution.



Posting comments on collectors forums?

Nazi scandal hits human rights group

Garlasco has also written a book about Nazi-era medals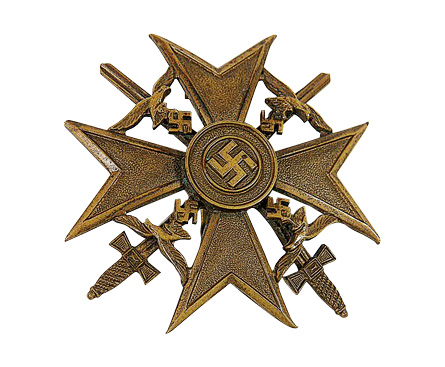 A Sept. 8 post on the pro-Israel blog Mere Rhetoricouted Marc Garlasco, a senior military analyst at Human Rights Watch (HRW), as an avid collector of Nazi memorabilia. The report, published by blogger Omri Ceren, accused Garlasco of being "Nazi-obsessed" and of holding "anti-Israeli biases." HRW initially dismissed Ceren's claims and threw its full support behind Garlasco, who has written articles critical of the Israel Defense Forces for the organization. But last Monday HRW suspended Garlasco without pay "pending an investigation."

Garlasco is an avid collector of Third Reich articles. Mere Rhetoric quoted his zealous postings on collector sites, including, "The leather  jacket makes my blood go cold it is so COOL!" According to Ceren, Garlasco operated online under the handle "Flak 88"—a reference to the 88mm German anti-aircraft gun, or perhaps the Nazi rallying cry "Heil Hitler" (H is the eighth letter of the alphabet). Garlasco has also written a 400-plus-page book about Nazi-era medals, titled The Flak Badges of the Luftwaffe and Heer.

Garlasco insists he is being pilloried by the pro-Israel lobby, and that his interest in the far right is simply a product of his passion for wartime history. In a response on the Huffington Post, he explained that his fascination with war souvenirs was inspired by his German grandfather, who was conscripted to fight in the war. "I'm a military geek," he wrote. "I've never hidden my hobby . . . precisely because it's so obvious that the Nazis were evil."

For HRW, the timing of the exposé could not be worse. The group has thrown its weight behind the UN-sponsored Goldstone report, which accuses both Israel and the Palestinians of committing war crimes in the Gaza strip earlier this year. Garlasco's actions will surely lead many to question the group's credibility: according to HRW Middle East advisory committee member Helena Cobban, "[HRW's critics] have been given this deus ex machina gift about the discovery of Garlasco and his out-of-hours hobby.

Confidential Selling

For an immediate confidential sale of your daggers, flags, SA . flintlocks, helmets, Tank, Katana, Luftwaffe, Japanes, Militaria, Campaign , Fallchirmjager, Cap, Badge, Iron Cross, Patches, U-boat, Kreigsmarine, SS medals, insignia, bayonets, WW1/WW2 collections.

1) Contact: enquiries@germanhelmetswanted.com

2) Once you have received the offer that you are happy with, wrap (bubble wrap or similar) the item, then tape it and box it up securely – very important!

3) Send your item Insured Tracked Postal Service. The postal forms Description (Ceremonial Artifact) to:

GHW.COM
ARUNDEL ANTIQUES MARKET
18 HIGH STREET
ARUNDEL
WEST SUSSEX
BN18 9AB.
ENGLAND

Best regards,

David Mattey (buyer)




Bayonet Makers


S/155-E&F Horster

SolingenS/172-
S/173-Elite-Diamantwerk
Siegmar-Schonau bei Chemnitz
S/174
S/175
S/176
S/177
S/178
S/184
S/185
S/238
S/239
S/240
S/244
ab- Mundlos AG
Magdeburg Nord
agv-Berg&Co
Solingen-Ohligs
asw-E&F Horster
Solingen
bym-Gennosenschafts Machinenhaus der Buchsenmacher
Fernlach/Karnten
Austria
can- August Wallmeyer
Eisenach (Thuringen)
clc-Richard Abr. Herder
Solingen
cof- Carl Eickhorn Waffenfabrik
Solingen
cqh-Clemen und Jung
Solingen
crs- Paul Weyersberg und Co
Solingen
cul- Ernst Pack und Sohne
Solingen
cvl- Weyersberg
Kirschbaum und Co. (aka WKC)Waffenfabrik GmbH
Solingen-Wald
ddl- Remscheider Hobelmesserfabrik Josua Corts Sohn
Remscheid
dot- Waffenwerk Brunn AG
werk Brunn
Czechoslovakia
ffc- Friedrich Abr. Herder und Sohn
Solingen
fnj- Alexander Coppel GmbH (aka Alcoso)
Solingen
fze- F.W. Holler
Solingen
i-Elite Diamantwerk
Siegmar-Schonau bei Chemnitz
jwh- Manufacture Nationale (Staatliche Waffenfabrik) Chatellerault
France
pyy- Berg&Co
Solingen
sgx- E&F Horster
SolingenManufacturers codes of the combat bayonet .
agv Berg &Co.
Solingen-Ohligs 41-4asw E&F Horster
Solingen 40-44

bym Genossenshaft Mach
Ferlach-Karnten
Austria 41-.can Aug. Wallmeyer
Eisenach-Thuringen clc Richard Abr. Herder
Solingen 41-44.cof Carl Eichorn
Solingen 41-45.cqh Clemen & Jung
Solingen 41-44 crs Paul Weyersberg & Co.
Solingen 41-45.cul Ernst Pack & Sohne
Solingen 41-44.cvl WKC Waffenfabrik
Solingen-Wald 41-45ddl Remsheider Hobelmesser
Remsheid 41-44.ffc Fredr. Abr. Herder Sohne
Solingen 41-44..fnj Alexander Coppel Gmbh
Solingen 41-44.fze F.W. Holler
Solingen 41-43.jwh Staatliche Waffenfabrik
Chatellerault
France 41-44.pyy Berg & Co.
Solingen
1944.sgx E&F Horster
Solingen 44-45


Blade Codes

Blade codes RZM M7/2
RZM M7/3
RZM M7/4
RZM
M7/5
RZM M7/6
RZM
M7/7
RZM M7/8
RZM M7/9.RZM
M7/10
RZM M7/11
RZM M7/12
RZM M7/13
RZM M7/14
RZM M7/15
RZM M7/16
RZM M7/17
RZM M7/18
RZM M7/19
RZM M7/20
RZM M7/21
RZM M7/22
RZM M7/23
RZM M7/24
RZM M7/25
RZM M7/25
RZM M7/26
RZM M7/27
RZM M7/28
RZM M7/29
RZM M7/29
RZM M7/30
RZM M7/31
RZM M7/32
RZM M7/33
RZM M7/33
RZM M7/34
RZM M7/35
RZM M7/36
RZM M7/37
RZM M7/38
RZM M7/39
RZM M7/40
RZM M7/41
RZM M7/42
RZM M7/43
RZM M7/44.
RZM M7/45
RZM M7/45
RZM M7/46
RZM M7/47
RZM M7/48
RZM M7/49
RZM M7/50
RZM M7/51
RZM M7/52
RZM M7/53
RZM M7/54
RZM M7/55
RZM M7/56
RZM M7/57
RZM M7/58
RZM M7/59
RZM M7/60
RZM M7/61
RZM M7/62
RZM M7/63
RZM M7/64

RZM M7/66
RZM M7/67
RZM M7/68
RZM M7/69
RZM M7/70
RZM M7/71
RZM M7/72
RZM M7/73
RZM M7/74
RZM M7/75
RZM M7/76
RZM M7/77
RZM M7/78
RZM M7/79
RZM M7/80
RZM M7/81
RZM M7/82
RZM M7/83
RZM M7/84
RZM M7/85
RZM M7/75
RZM M7/76
RZM7/77
RZM M7/78
M7/79
M7/80
M7/81 Karl Tiegel
M7/82 Gebrüder Born
Solingen
M7/83 Richard Pluemacher Sohn
Solingen
M7/84 Carl Schmidt Sohn
Solingen
M7/85 Arthur Evertz
Solingen
M7/86 Kuno Liemscheid & Co.
Solingen auf der Hohe
M7/87 Maich & Ambrom
Steinbach
M7/88 Juliuswerk-J. Schmidt & Sohn
Riemberg i. Schlesien
M7/89 Ernst Mandewirth
Solingen
M7/90 Eickelnberg & Mack
Solingen
M7/91 Carl Spitzer
Malsch
M7/92 Peter Daniel Krebs
Solingen
M7/93 Ewald Cleff
Solingen
M7/94 Gebrüder Bell
Solingen-Grafarth
M7/95 J. A. Schmidt & Sohn
Solingen
M7/96 Drees & Sohn
Solingen
M7/97 F Koeller & Co.
Solingen-Ohligs
M7/98 Ernst Erich Witte
Solingen
M7/99 Franz Weinrank
Wien
M7/100 Franz Pils & Sobn
Wien
M7/101 Fritz Weber
Wien
M7/102 Franz Pils & Sohn
Steinbach am St.
M7/103 Josef Hack
Steyr (Ober-Donau)
M7/104 Ludwig Zeitler
Wien
M7/105 Rudolf Wurzer
St. Christophen
M7/106 Georg Kerschbaumer
Steinbach an der Steyr
M7/108 Karl Oschmann & Co.
Brotterode i. Th.
M7/110 Felbeck & Pickard
Solingen
M7/111 H. Herder
Solingen
M7/112 Carl Wusthof-Gladiatorwerk
Solingen
M7/113 Berndorfer Metaliwarenfabrik - Arthur Krupp AG.
Berndorf
M7/114 Hugo Linder C. W. Sohn
Solingen-Weyer
M7/115 Erhardt Reich
Schwcina
M7/116 Franz Frenzel
Nixdorf (Sudetenland)
M7/117 Julius Pilz Sohn
Nixdorf (Sudetenland)
M7/118 Jacobs & Co.
Solingen-Grafrath
M7/163 E. & A. Helbig
Steinbach
M7/183 Ernst E. Witte (Kroneck)
Solingen
M7/1051 Robert Klaas
Solingen
M7/1053 P. D. Lüneschloss
Solingen
M7/1164 David Malsch
Steinbach Krm.
M7/1211 E. PacGebrüder Christians
Christianswerk
Solingen
M7/2 Emil Voos Waffenfabrik
Solingen
M7/3 Kuno Ritter
Solingen-Grafrath
M7/4 August Müller KG.
Solingen-Merscheid
M7/5 Carl Julius Krebs
Solingen
M7/6 H. & F. Lauterjung
Solingen
M7/7 Hermann Konejung
Solingen
M7/8 Eduard Gembruch
Solingen-Grafrath
M7/9 SMF - Solinger Metallwaffenfabrik Stoecker & Co.
Solingen
RZM M7/10 J. A. Henckels
Solingen
M7/11 E. Knecht & Co.
Solingen
M7/12 WMW - Waffenfabrik Max Weyersberg
Solingen
M7/12 Carl Robert Kaldenbach
RZM M7/13 Arthur Schüttelhofer & Co.
Solingen-Wald
M7/14 R D. Luneschloss
Solingen
M7/15 Carl & Robert Linder
Solingen
M7/16 Justus Brenger & Co.
Solingen-Wald
M7/17 A. Werth
Solingen
M7/18 Richard Abr. Herder
Solingen
M7/19 Edward Wüsthof Dreizackwerk
Solingen
M7/20 Ernst Mandewirth
Solingen
M7/21 Hermann Schneider
Solingen
M7/22 Wilhelm Weltersbach
Solingen
M7/23 Carl Halbach
Solingen
M7/24 Reinhard Weyersberg
Solingen
M7/25 Wilhelm Wagner
Solingen-Merscheid
M7/25 Jostes & Co.
Solingen
M7/26 Carl August Meis
G.m.b.H.
Solingen
M7/27 Pumawerk (Lauterjung & Sohn)
Solingen
M7/28 Gustav Felix
Gloriawerk
Solingen
M7/29 Klittermann & Moog G.m.b.H.
Haan
M7/29 Jacobs & Co. (duplicate)
M7/30 Gebrüder Grafrath
Solingen-Widden
RZM M7/31 August Merten Mw.
Solingen-Grafrath
M7/32 Robt. Muller
Solingen-Merscheid
M7/33 F W. Höller
Solingen
M7/33 P.u.A. Duenzer
Solingen
M7/34 Rudolf C. Jacobs
Solingen-Grafrath
M7/35 Wilhelm Halback
Solingen
M7/36 E. & F. Hörster
Solingen
M7/37 Robert Klaas
Solingen-Ohligs
M7/38 Paul Seilheimer
Solingen
M7/39 Franz Steinhoff
Solingen-Wald
M7/40 Hartkopf & Co.
Solingen
M7/41 Rudolf Schmidt
Solingen
M7/42 W.K.C. (Weyersberg
Kirschbaum & Co.) Waffenfabrik
Solingen-W M7/43 Paul Weyersberg & Co.
Solingen
M7/44 F. W. Backhaus
Solingen-Obligs
M7/45 Karl Bocker
Solingen
M7/45 Ottersbach & Co.
Solingen
M7/46 Emil Gierling
Solingen
M7/47 Paul Ebel
Solingen
M7/48 Otto Simon
Steinbach
M7/49 Friedrich Herder A.S.
Solingen
M7/50 Gebrüder Heller
G.m.b.H.
Marienthal
M7/51 Anton Wingen
Jr.
Solingen
M7/52 Herbertz & Meurer
Solingen-Grafrath
M7/53 Nach. Gustav Weyersberg
Solingen
M7/54 Gottfried Müller
Rerges-Vogtei
M7/55 Robert Herder
Solingen-Ohligs
M7/56 C. D. Schaaf
Solingen
M7/57 Peter Lungstrass
Solingen-Ohligs
M7/58 Louis Perlmann
Solingen
M7/59 C. Lutters & Co.
Solingen
M7/60 Gustav L. Koller
Solingen
M7/61 Carl Tillmans Sohn KG.
Solingen
M7/62 Friedrich Plucker Jr
Solingen-Grafrath
M7/63 Herder & Engels
Solingen-Ohligs
M7/64 Friedr. Geigis
Solingen-Foche
M7/65 Karl Heidelberg
Soli
M7/80 Gustav C. Spitzer
Solingen
M7/82 Gebrüder Born
Solingen
M7/83 Richard Pluemacher Sohn
Solingen
M7/84 Carl Schmidt Sohn
Solingen
M7/85 Arthur Evertz
Solingen
M7/86 Kuno Liemscheid & Co.
Solingen auf der Hohe
M7/87 Maich & Ambrom
Steinbach
M7/88 Juliuswerk-J. Schmidt & Sohn
Riemberg i. Schlesien
M7/89 Ernst Mandewirth
Solingen
M7/90 Eickelnberg & Mack
Solingen
M7/91 Carl Spitzer
Malsch
M7/92 Peter Daniel Krebs
Solingen
M7/93 Ewald Cleff
Solingen
M7/94 Gebrüder Bell
Solingen-Grafarth
M7/95 J. A. Schmidt & Sohn
Solingen
M7/96 Drees & Sohn
Solingen
M7/97 F Koeller & Co.
Solingen-Ohligs
M7/98 Ernst Erich Witte
Solingen
M7/99 Franz Weinrank
Wien
M7/100 Franz Pils & Sobn
Wien
M7/101 Fritz Weber
Wien
M7/102 Franz Pils & Sohn
Steinbach am St.
M7/103 Josef Hack
Steyr (Ober-Donau)
M7/104 Ludwig Zeitler
Wien
M7/105 Rudolf Wurzer
St. Christophen
M7/106 Georg Kerschbaumer
Steinbach an der Steyr
M7/108 Karl Oschmann & Co.
Brotterode i. Th.
M7/109 Thomas Weilpütz
Solingen-Höscheid M7/110 Felbeck & Pickard
Solingen
M7/111 H. Herder
Solingen
M7/112 Carl Wusthof-Gladiatorwerk
Solingen
M7/113 Berndorfer Metaliwarenfabrik - Arthur Krupp AG.
Berndorf
M7/114 Hugo Linder C. W. Sohn
Solingen-Weyer
M7/115 Erhardt Reich
Schwcina
M7/116 Franz Frenzel
Nixdorf (Sudetenland)
M7/117 Julius Pilz Sohn
Nixdorf (Sudetenland)
RZM M7/118 Jacobs & o.
Solingen-Grafrath
RZM M7/163 E. & A. Helbig
Steinbach
RZM M7/183 Ernst E. Witte (Kroneck)
Solingen
RZM M7/1051 Robert Klaas
Solingen
RZM M7/1053 P. D. Lüneschloss
Solingen
RZM M7/1164 David Malsch
Steinbach Krm.
M7/3 Kuno Ritter
Solingen-Grafrath
M7/4 August Müller KG.
Solingen-Merscheid
M7/5 Carl Julius Krebs
Solingen
M7/6 H. & F. Lauterjung
Solingen
M7/7 Hermann Konejung
Solingen
M7/8 Eduard Gembruch
Solingen-Grafrath
RZM M7/9 SMF - Solinger Metallwaffenfabrik Stoecker & Co.
Solingen
M7/10 J. A. Henckels
Solingen
M7/11 E. Knecht & Co.
Solingen
M7/12 WMW - Waffenfabrik Max Weyersberg
Solingen
M7/12 Carl Robert Kaldenbach
RZM M7/13 Arthur Schüttelhofer & Co.
Solingen-Wald
M7/14 R D. Luneschloss
Solingen
M7/15 Carl & Robert Linder
Solingen
M7/16 Jstus Brenger & Co.
Solingen-Wald
M7/17 A. Werth
Solingen
M7/18 Richard Abr. Herder
Solingen
M7/19 Edward Wüsthof Dreizackwerk
Solingen
M7/20 Ernst Mandewirth
Solingen
M7/21 Hermann Schneider
Solingen
M7/22 Wilhelm Weltersbach
Solingen
M7/23 Carl Halbach
Solingen
M7/24 Reinhard Weyersberg
Solingen
M7/25 Wilhelm Wagner
Solingen-Merscheid
M7/25 Jostes & Co.
Solingen
M7/26 Carl August Meis
G.m.b.H.
Solingen
M7/27 Pumawerk (Lauterjung & Sohn)
Solingen
M7/28 Gustav Felix
Gloriawerk
Solingen
M7/29 Klittermann & Moog G.m.b.H.
Haan
M7/29 Jacobs & Co. (duplicate)
RZM M7/31 August Merten Mw.
Solingen-Grafrath
M7/32 Robt. Muller
Solingen-Merscheid
M7/33 F W. Höller
Solingen
M7/33 P.u.A. Duenzer
Solingen
M7/34 Rudolf C. Jacobs
Solingen-Grafrath
M7/35 Wilhelm Halback
Solingen
M7/36 E. & F. Hörster
Solingen
RZM M7/37 Robert Klaas
Solingen-Ohligs
M7/38 Paul Seilheimer
Solingen
M7/39 Franz Steinhoff
Solingen-Wald
M7/40 Hartkopf & Co.
Solingen
RZM M7/42 W.K.C. (Weyersberg
Kirschbaum & Co.) Waffenfabrik
Solingen- M7/43 Paul Weyersberg & Co.
Solingen
RZM M7/44 F. W. Backhaus
Solingen-Obligs
M7/45 Karl Bocker
Solingen
M7/45 Ottersbach & Co.
Solingen
M7/46 Emil Gierling
Solingen
M7/47 Paul Ebel
Solingen
M7/48 Otto Simon
Steinbach
RZM M7/49 Friedrich Herder A.S.
Solingen
RZM M7/50 Gebrüder Heller
G.m.b.H.
Marienthal
M7/51 Anton Wingen
Jr.
Solingen
M7/52 Herbertz & Meurer
Solingen-Grafrath
M7/53 Nach. Gustav Weyersberg
Solingen
M7/54 Gottfried Müller
Rerges-Vogtei
M7/55 Robert Herder
Solingen-Ohligs
M7/56 C. D. Schaaf
Solingen
M7/57 Peter Lungstrass
Solingen-Ohligs
M7/58 Louis Perlmann
Solingen
M7/59 C. Lutters & Co.
Solingen
M7/60 Gustav L. Koller
Solingen
M7/61 Carl Tillmans Sohn KG.
Solingen
M7/62 Friedrich Plucker Jr
Solingen-Grafrath
RZM M7/63 Herder & Engels
Solingen-Ohligs
M7/64 Friedr. Geigis
Solingen-Foche
M7/65 Karl Heidelberg
Solingen
RZM M7/66 Carl Eickorn
Solingen
M7/67 Gottlieb Hammesfahr
Solingen-Foche
M7/68 Tigerwerk Lauterjung & Co.
Solingen
M7/69 H.A. Erbe AG.
Schmalkalden
M7/70 David Malsch
Steinbach
M7/71 Herm. Hahn
Solingen-Wald
M7/72 Karl Rob. Kaldenbach
Solingen-Grafrath
M7/73 F u. A. Helbing
Steinbach
M7/74 Friedrich Aug. Schmitz
Solingen
M7/75 Böker & Co.
Solingen
M7/76 Herbeck & Meyer
Solingen-Weyer
M7/77 Gustav Schmeider
Solingen
M7/78 Herm. Linder Sohn
Solingen
M7/79 C. Bertram Reinhard & Sohn
Solingen
M7/80 Gustav C. Spitzer
Solingen
M7/81 Karl Tiegel
Riemberg
M7/82 Gebrüder Born
Solingen
M7/83 Richard Pluemacher Sohn
Solingen
M7/85 Arthur Evertz
Solingen
M7/86 Kuno Liemscheid & Co.
Solingen auf der Hohe
M7/87 Maich & Ambrom
Steinbach
M7/88 Juliuswerk-J. Schmidt & Sohn
Riemberg i. Schlesien
M7/89 Ernst Mandewirth
Solingen
M7/90 Eickelnberg & Mack
Solingen
M7/91 Carl Spitzer
Malsch
M7/92 Peter Daniel Krebs
Solingen
M7/93 Ewald Cleff
Solingen
M7/94 Gebrüder Bell
Solingen-Grafarth
M7/95 J. A. Schmidt & Sohn
Solingen
M7/96 Drees & Sohn
Solingen
RZM M7/97 F Koeller & Co.
Solingen-Ohligs
RZM M7/98 Ernst Erich Witte
Solingen
RZM M7/99 Franz Weinrank
Wien
RZM M7/100 Franz Pils & Sobn
Wien
RZM M7/101 Fritz Weber
Wien
RZM M7/102 Franz Pils & Sohn
Steinbach am St.
RZM M7/103 Josef Hack
Steyr (Ober-Donau)
RZM M7/104 Ludwig Zeitler
Wien
RZM M7/105 Rudolf Wurzer
St. Christophen
RZM M7/106 Georg Kerschbaumer
Steinbach an der Steyr
RZM M7/108 Karl Oschmann & Co.
Brotterode i. Th.
RZM M7/109 Thomas Weilpütz
Solingen-Höscheid
RZM M7/110 Felbeck & Pickard
Solingen
RZM M7/111 H. Herder
Solingen
RZM M7/112 Carl Wusthof-Gladiatorwerk
Solingen
RZM M7/113 Berndorfer Metaliwarenfabrik - Arthur Krupp AG.
Berndorf
RZM M7/114 Hugo Linder C. W. Sohn
Solingen-Weyer
RZM M7/115 Erhardt Reich
Schwcina
RZM M7/116 Franz Frenzel
Nixdorf (Sudetenland)
RZM M7/117 Julius Pilz Sohn
Nixdorf (Sudetenland)
RZM M7/118 Jacobs & Co.
Solingen-Grafrath
RZM M7/163 E. & A. Helbig
Steinbach
RZM M7/183 Ernst E. Witte (Kroneck)
Solingen
RZM M7/1051 Robert Klaas
Solingen
RZM M7/1053 P. D. Lüneschloss
Solingen
RZM M7/1164 David Malsch
Steinbach Krm.
RZM M7/1211 E. Pac